Singaporean distiller Tanglin has launched two products at Changi Airport: a limited edition gin and a moonshine liqueur.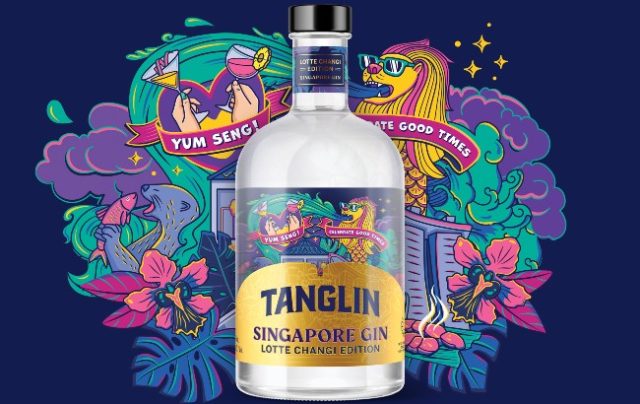 Tanglin was founded in 2018 and is said to be the maker of Singapore's "first" gin.
The brand has announced the launch of two travel retail exclusive expressions: Singapore Gin – Lotte Changi Edition and Singapore Moonshine.
Singapore Gin – Lotte Changi Edition was launched to mark the return of travel after the Covid-19 pandemic.
The glass artwork celebrates Singapore's "architectural wonders" and colorful history and culture. It depicts the Merlion, a mythical creature with the head of a lion and the body of a fish, which is the official mascot of Singapore.
It also features the famous Marina Bay Sands Hotel and 'Yum Seng', the Cantonese term for 'cheers'.
The team at Tanglin are said to have challenged themselves to produce a contemporary citrus gin with complex, balanced and harmonious flavours.
It contains nine botanicals including mandarin orange, chilli seed, kaffir lime and ginger, resulting in a sweet and citrusy gin that pairs well with spicy Asian fusion foods.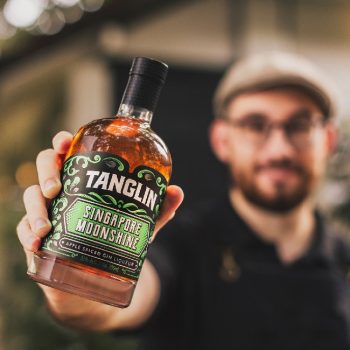 Moonshine liqueur
Tanglin Singapore Moonshine – Apple Spiced Gin Liqueur was created in the Tanglin creations lab.
It is based on a Singaporean moonshine tradition known as Samsu from the 1930s, when it was secretly distilled in the jungle from dusk to dawn in an attempt to escape detection.
Almost a century later, Tanglin Gin has decided to return to Singapore's popular moonshine, keeping the tradition of making Samsu in the jungle.
It was made using an old moonshine recipe and created with Asian ingredients such as gula melaka, ginger and cloves to make it 'uniquely Singaporean'.
It is described as tasting like "apple pie with an Asian twist".
The recipe uses gin tails, the last part of the gin run that is not used in the brand's core gins, enabling waste to be reduced in the brand's production process.
It is bottled at 32% ABV.
Both versions are available exclusively at Changi Airport.
Tanglin Distillery is located on Dempsey Hill in Singapore. It offers distillery tours and boasts its own cocktail bar, which offers a menu of Asian-inspired cocktails and Singaporean-inspired fusion dishes.