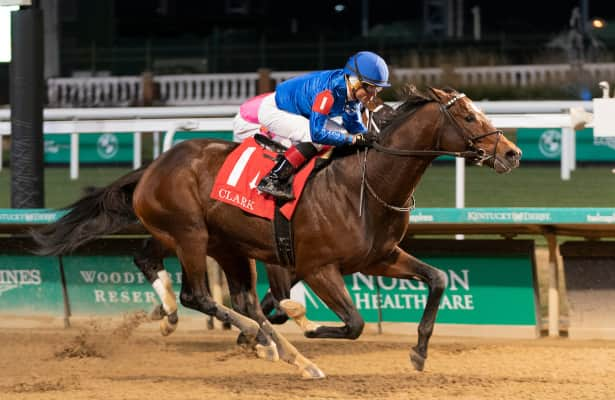 Photo: Jessica Morgan/Eclipse Sportswire
Repo Rocksa winning 4-year-old son of Tapiture, won his first stakes Wednesday and earned the highest Brisnet Speed ​​Rating among stakes winners for the week.
The victory came in the black-type Let's Give Thanks Stakes at Parx, with jockey Andrew Wolfsont covering 6 1/2 furlongs in 1:18.85 to win by a neck.
He earned a 96 Beyer Speed ​​Figure for his effort, fittingly Daily racing formand a 119 TimeformUS Speed ​​Figure.
Among graded stakes winners, Proxy earned the highest Brisnet rating of 107 for his victory in the Clark (G1) with Joel Rosario aboard. It also received a 101 Beyer and a 120 from TimeformUS.
The two juveniles who drew the most attention this week did not make the list below, which is ranked by the top 25 Brisnet ratings. Kentucky Jockey Club (G2) winner Instant Coffee received an 84 Brisnet, an 82 Beyer and a 97 TimeformUS. And Golden Rod (G2) winner Hoosier Philly received a 92 Brisnet, 81 Beyer and 102 TimeformUS figure.
Here are the numbers for last week's stakes winners, ranked by Brisnet Speed ​​Ratings, with Beyer Speed ​​Figures from Daily racing form and TimeformUS Speed ​​Figures as available.
| Horse | Race, distance | Jockey | Brisnet | Beyer | TimeformUS |
| --- | --- | --- | --- | --- | --- |
| Repo Rocks | Thank you, 6 1/2 furlongs | Andrew Wolfson | 107 | 96 | 119 |
| Proxy | Clark (G1), 1 1/8 miles | Joel Rosario | 102 | 101 | 120 |
| Armando R | Richard W. Little, 1 1/8 miles | Horacio Karamanos | 101 | 95 | 106 |
| Defunded | Native Diver (G3), 1 1/8 miles | Edwin Maldonado | 101 | 95 | 124* |
| Sixty-three caliber | Comely (G3), 1 1/8 miles | Kendrick Carmouche | 100 | 94 | 116 |
| I laugh with Biden | Turkey Trot, 1 mile, 70 yards | Paco Lopez | 99 | 93 | 116 |
| Astronaut | Red Smith (G2), 1 3/8 miles (turf) | Kendrick Carmouche | 98 | 102 | 121 |
| Greeley and Ben | Fall Highweight (G3), 6 furlongs | Manuel Franco | 98 | 98 | 114 |
| Hong Kong Harry | Seabiscuit (G2), 1 1/16 miles (turf) | Flavien Prat | 98 | 101 | 123 |
| Lammas | Berkeley (G3), 1 1/16 miles (synthetic) | Kevin Radke | 98 | 96 | 119 |
| Nothing better | Aqueduct Turf Sprint Championship, 6 furlongs (turf) | Horacio Karamanos | 98 | 95 | 116 |
| Tejano Twist | Steel Valley Sprint, 6 furlongs | Chris Landeros | 98 | 98 | 119 |
| Dougie D'Oro | Cardinal (MVR), 6 stages | Ricardo Feliciano | 97 | 96 | 117 |
| Eloquent | Discovery, 1 1/8 miles | Paco Lopez | 97 | 90 | 115 |
| Always take your time | Howard and Sondra Bender Memorial, 7 furlongs | Angel Cruz | 96 | 92 | 110 |
| Dalika | Cardinal (CD, G3), 1 1/8 miles (turf) | Brian Hernandez Jr. | 96 | 97 | 120 |
| Little Vic | Laurel City, 7 stadia | Carlos Olivero | 96 | 94 | 116 |
| He played hard | Falls City (G3), 1 1/8 miles | Joel Rosario | 96 | 90 | 118 |
| Soy Tapatio | Zia Park Championship, 1 1/8 miles | Orlando Mojica | 95 | 98 | 119 |
| Star Becomes | Autumn days, 6 stadiums (lawn) | Jose Ortiz | 95 | 96 | 117 |
| The Terror of the Temple City | Long Island (G3), 1 3/8 miles (turf) | Jose Ortiz | 95 | 99 | 120 |
* Estimate