With a car worth $10 million and extremely rare, Jay praises the classic Ferrari for its comfort, feel and exhaust note.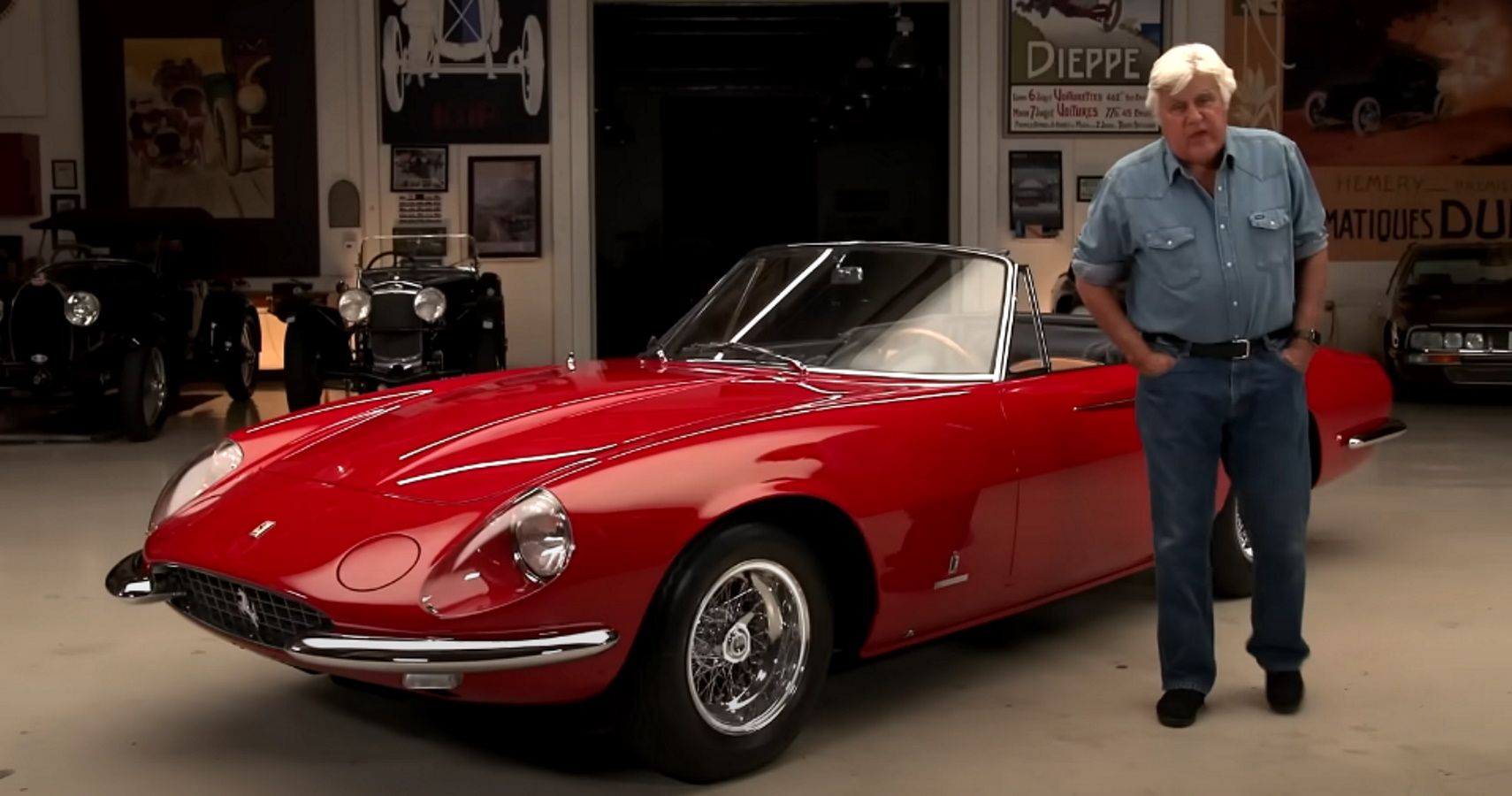 In his latest YouTube video, Jay Leno get behind the wheel of an epic and very rare 1967 Ferrari 365 California Spider, a successor to the 250 GT California Spyder featured in Ferris Bueller's Day Off.
From the first moments of the presentation to the moment behind the wheel, Leno praises the car owned by The Nethercutt Collection, a renowned classic car museum in LA's San Fernando Valley. Jay even goes so far as to say that he prefers this classic Ferrari to modern cars.
RELATED: Why Jay Leno Thinks The Mercedes-Benz AMG GT Black Series Is A Wild Unicorn
Classic Ferrari, which is only 1 of 14 built
Leno's exploration of the 365 includes a brief history of the car, including how it was purchased from Tom Barrett (of Barrett-Jackson Auction fame) in the 1980s. The car then underwent an exterior repaint and a re-interior. But otherwise, the mechanics of this legendary 18,000 mile Ferrari are original.
Viewers then learn the car's rarity, as Ferrari only built 14 examples. Nethercutt's Cameron Richards comments that he does not know the condition of the other 13 cars. And interestingly, it's the only Ferrari in the Nethercutt Collection, a grouping of over 250 automotive treasures.
When new, the car sold for $28,000, about $234,000 adjusted for inflation. However, Leno notes that this member of automotive royalty could easily fetch $10 million or more.
RELATED: Jay Leno loves how this 1954 Lancia Aurelia Outlaw rolls and pulls
A masterpiece of engineering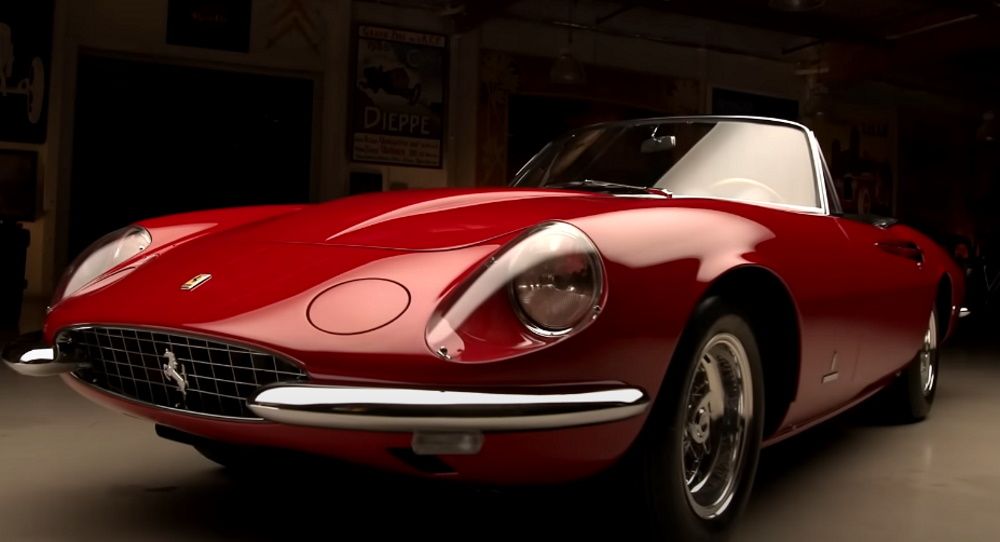 The conversation quickly turns to the heart of this legendary Ferrari, the Colombo V12 engine that sits under the hood. It's a factory 4.4 liter engine rated at 320 horsepower, an impressive number for today.
Both Leno and Richards note the engine's simple yet elegant appearance. Spark plugs and dual oil filters are easy to access, making maintenance effortless. Practicality extends beyond the engine compartment, as there are modest but usable rear seats. In addition, the trunk is able to handle several suitcases.
Jay Leno gets behind the wheel of the 1967 Ferrari 365 California Spider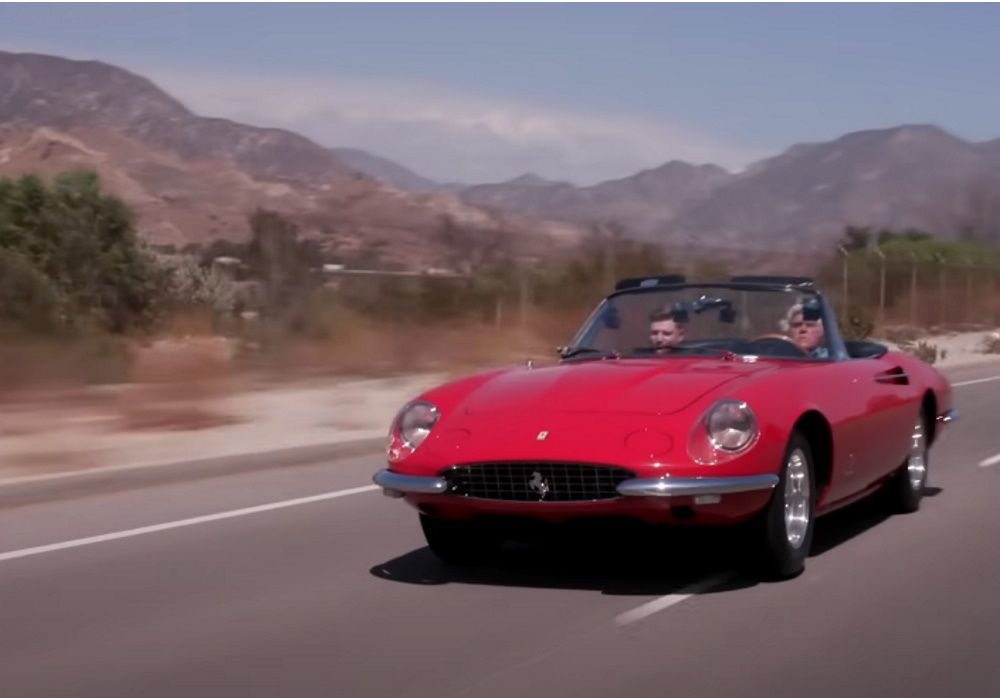 No Leno's Garage review is complete without some time behind the wheel, and Leno is eager to spend some time on the road with this awesome Ferrari. Meanwhile, a throaty exhaust roar hints at the joy ahead.
"Extremely comfortable" and "wonderful to use" are just a few of the comments Leno makes while driving the car. He finds the engine power and torque to be impressive, while appreciating that this car isn't as focused on the track as so many other supercars.
"About 80 to 90 is where it wants to be, driving on the highway. It was just effortless," adds Leno.
Sources: YouTube/Jay Leno's Garage, nethercuttcollection.org