Edward Whitaker (racingpost.com/photos)
" title="John Hanmer pictured with Frankie Dettori celebrating the Magnificent Seven's 20th anniversary" class="js-imageLoader" data-at-xn="https://www.rp-assets.com/ images/news/2021 /07/12/95430-medium.jpeg" data-br-n="https://www.rp-assets.com/images/news/2021/07/12/95430-medium.jpeg " data-br-m="https://www.rp-assets.com/images/news/2021/07/12/95430-large.jpeg" data-br-w="https://www.rp -assets.com/ images/news/2021/07/12/95430-large.jpeg" data-br-xw="https://www.rp-assets.com/images/news/2021/07/12/ 95430-large.jpeg " onclick="return false;">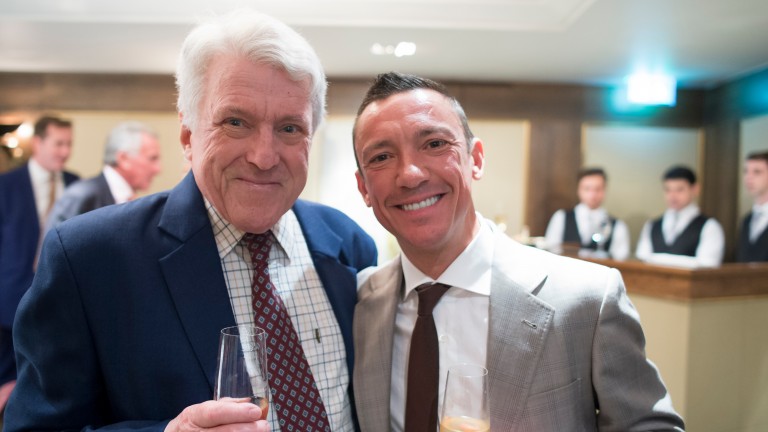 John Hanmer pictured with Frankie Dettori celebrating the 20th anniversary of The Magnificent Seven
Edward Whitaker (racingpost.com/photos)
John Hanmer, a stalwart of BBC racing coverage best known for his integral work on the Grand National, died on Sunday aged 82.
Hanmer was a highly respected figure in racing for his long-standing role in the BBC television Grand National commentary team from 1972 to 2003 and also as BBC commentary assistant to Peter O'Sullevan from 1971 to 1997 .
In his most public role, he commented for the BBC at the Grand National alongside the likes of O'Sullevan, Julian Wilson and Jim McGrath, taking the lead as the runners crossed Melling Road.
Hanmer mainly acted for the BBC as a "spotter" for O'Sullevan and later McGrath, but took the microphone after the live races were shown on the grandstand, most memorably when he called the last three races of Frankie Dettori's Magnificent Seven at Ascot in 1996.
Commentator and friend Ian Bartlett, who worked with Hanmer for a decade at the BBC, said: "He was an extremely polite man with a fantastic sense of humour. The 50's were fantastic and he was still sharp.
"I only worked with him a few times when I was a commentator and he was the 'you said' man, but he knew instinctively what you missed. He knew exactly what was going on and was solid – no fuss. but it was very good."
As well as being a commentator, Hanmer was a Raceform racing reader for many years and a jockey's agent, mainly for Steve Cauthen and Cash Asmussen. He was honored with the Chairman's Award at last year's Derby Awards.
Hanmer, a keen cricket follower who traveled to Australia several times to watch The Ashes, had many racing friends, including former coach Barry Hills.
FIRST PUBLISHED 11:08, 28 NOV 2022