By George Hamilton III
It was around 5:00 PM on Sunday, March 31, 2019. My mom, dad, and I are at the LA Galaxy-Portland Timbers game for my mom's birthday. Suddenly we all get a notification on our phones saying that Nipsey Hussle has been killed outside his clothing store. We all didn't believe the headline on our phone, but this hit close to home not only because of his success as a rapper, but his desire to give back to his community.
Nipsey Hussle's death was the beginning of the killing of some of the youngest rappers in the industry. Whether it was just being in the wrong place at the wrong time or getting killed for posting their location, rappers in the modern era have always posted on social media, primarily Instagram, where they are or were.
Hip Hop is one of the best genres of music ever created, but at the same time, it can be argued that the amount of violence and crime hip hop causes makes it one of the worst genres of music. Not all hip hop is violent, and some of the older generation will say that rappers in the 1980s and 1990s tried to stop violence in their communities through hip hop, but there was that shift in the 2000s and beyond , where possible. says that hip-hop has been harmful to youth.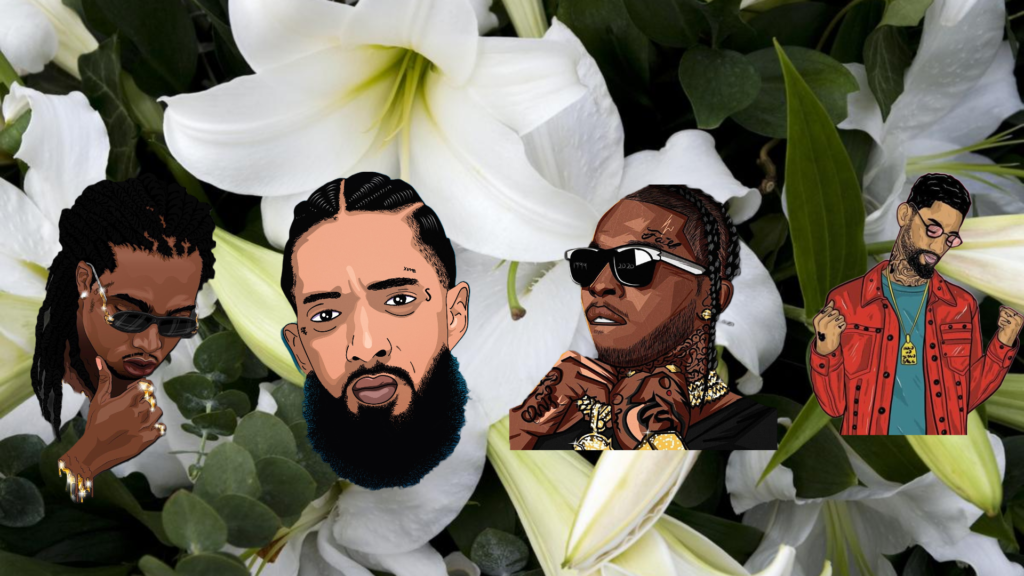 In the past four years, the rap community has lost Hussle, Pop Smoke, XXXTentacion, Young Dolph, Houdini, MO3, JayDaYoungan, DrakeoTheRuler, PnB Rock, and most recently, Takeoff, as well as many others. DrakeoTheRuler's tragic killing was a stabbing at the Once Upon A Time Festival in Los Angeles, but except for his murder, all the deaths have one thing in common, shootings.
Talking to one of my best friends, Ajay Ascano, he said that celebrities need to be more careful when they go out and post because anything can happen. He explained: "Rappers and celebrities in general have all this fame and money and influence that everyone wants. Rappers will go out and post where they are, but a person can come to that exact location and try to steal or even kill them, as we saw with the Pop Smoke murder. So rappers and celebrities just have to be careful what they post and where they post because everything can be taken in an instant."
Whether it was gang-related, being in the wrong place at the wrong time, drug use, or a poor background, hip-hop has a higher homicide rate than any other genre, ranging from five to 32 times higher. In 2011, a study conducted at the University of Sydney by Professor Dianna Theodora Kenny showed that of the 13,000 deaths she examined, 51.5% of deaths related to the rap industry were murders.
Of the many rapper deaths I found in a four-year span, Pop Smoke's was the only one where posting his location resulted in his death. Pop Smoke's death had an effect on many rap fans because he was in his 20s and became a mainstream artist. However, you can also say that being young and rising fast in the industry made him believe that he would not be caught in the wrong place at the wrong time.
One of my other friends, Donnell Scott, said that as regular citizens, all we can do is hope that rappers and celebrities keep the right company around them. Donnell was a big fan of Pop Smoke, but he believes his rapid rise to popularity in the rap industry made him a target. "If you look at his rise in popularity, he had a hit song and then his first album did well, and when you're a young, successful rapper on the rise, there are people in this world who, unfortunately, will do something bad to have some of the success you have. With this kind of popularity, you have to be careful what you wear, what you post and what you post your location because there are people who are willing to do anything for money or fame, even if it means throwing their lives away."
Someone who knows a lot of celebrities and knows a lot of people who work with celebrities is Marjorie Williams, an entertainment business lawyer. She explains that even though she works with so many famous people, she knows how careful they are with what they post. "Working with these celebrities in the entertainment industry, I know how careful they are with their social media pages. Yes, they will be careful with what they post, and if they do post where they are, they will rarely post their location. I think more celebrities, especially rappers, need to be careful with that because what most rappers rap about are negative things, so it's better to just be careful."
There is no successful way to link rapper deaths to social media. Social media is sometimes used to find people who killed rappers, but that's in part due to those people posting themselves or articles online, so the target they've already created for themselves becomes even greater. It can be argued that social media is not the real problem with rapper deaths. The only thing the experts would say is to make sure you keep your prized possessions and sometimes even your location private because people envy your success and sometimes that unfortunately makes you a target.