Almost two-fifths of students would not consider a career in construction, according to research commissioned by engineering giant WSP.
The survey of 3,917 people between the ages of 16 and 23, conducted online by Savanta ComRes earlier this month, aimed to gauge young people's attitudes towards green skills and job opportunities in the economy.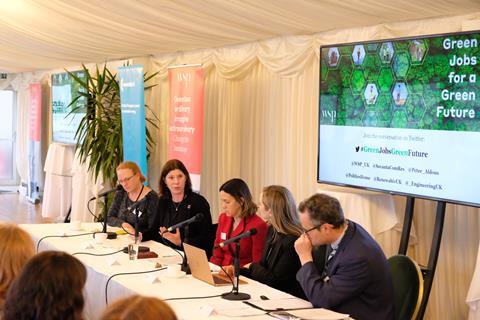 Asked which sectors they would not consider a career in, construction was the second most likely after metals and mining, with 37% saying they would avoid the industry.
The research revealed a high level of concern about climate change – 87% said they were very or somewhat concerned – but pessimism about how it might affect them and a lack of understanding of what constitutes a place of ecological work.
Only half of respondents thought their generation could have a big impact on tackling climate change, and only two in five said they understood what the term green jobs meant.
The data set, which was composed mostly of university students and contained a roughly equal mix of STEM and non-STEM students, was twice the size of that typically used by political opinion polls.
The findings were presented yesterday morning at an event hosted by the engineering firm in the House of Commons, with a talk sponsored by Peter Aldous MP, chair of the all-party parliamentary group on further education and lifelong learning.
There was broad agreement across the panel, which also included representatives from WSP, RenewableUK and EngineeringUK, that the industry needs to do a better job of promoting green careers.
Only one in five students said they felt informed about the range of green jobs available to them.
Jane Cooper, director of offshore wind at RenewableUK, said the ComRes survey showed the industry was missing out on a talent cohort and suggested a government- or industry-led effort "a bit like the armed forces campaign on TV" to increase the awareness of the variety of roles required for the green transition.
Noting the strength of young people's feelings about climate change, she said, "If that's not where we bring young people into STEM, we've really failed."
But the panel also said that sustainability and engineering should also be promoted in the early stages of education, reflecting the survey's finding that more than three in four of the universities surveyed wished they had learned more about school climate.
>> Why everyone is getting excited about the new energy efficiency task force
Aldous said this cannot be achieved by simply adding subjects to the existing curriculum. "What I'm talking about is root and branch reform to embed sustainability in the curriculum," he said.
Dr Isabel DiVanna, director of business development and partnerships at EngineeringUK, said the sector needed to "do more to introduce young people to green jobs" and recognize that many roles needed for the green transition do not require a university education .
WSP chief executive Rachel Skinner added that the company's research showed an "uphill battle" to develop the right skills and expertise.
"While today's students understand the crucial importance of the engineering and infrastructure sectors in securing a low-carbon future, many of them do not see these sectors as prime targets for their own future employment," she said.
She added that the industry "can't keep doing things the way we've always done it" and must act quickly to fix the problem.
"Everything we do now will be cheaper and less risky than if we left it until later […] the exportability of these skills increases if we act earlier," she said. "We know where we need to go, so let's move on."