If anyone had told Corentin ("Cory") Tual four years ago that he would be driving Lillie Keenan's best Grand Prix horses today, they wouldn't have believed them. Tual has spent the past four years as Keenan's chief groom, but was recently promoted to oversee the barn staff.
"Driving is a new adventure for me for [Winter Equestrian Festival (Florida)] The 2023 season," he said, "but I'm really excited about it."
Tual, 28, is originally from Langon, a small town in western France. He was drawn to horses around the age of 12 when a friend asked him to come ride ponies with her. "I remember coming home that afternoon and telling my parents I loved it," Tual said. "After that I went to the barn every chance I could; I've never been home before."
Over the years, Tual spent extra time working at the barn, which gave him the opportunity to ride more horses. Throughout high school and two years of college, Tual groomed and rode with Langon show jumper Sébastien Delaporte of the Sébastien Delaporte Stable. There, Tual had the opportunity to show off a little in the jumpers.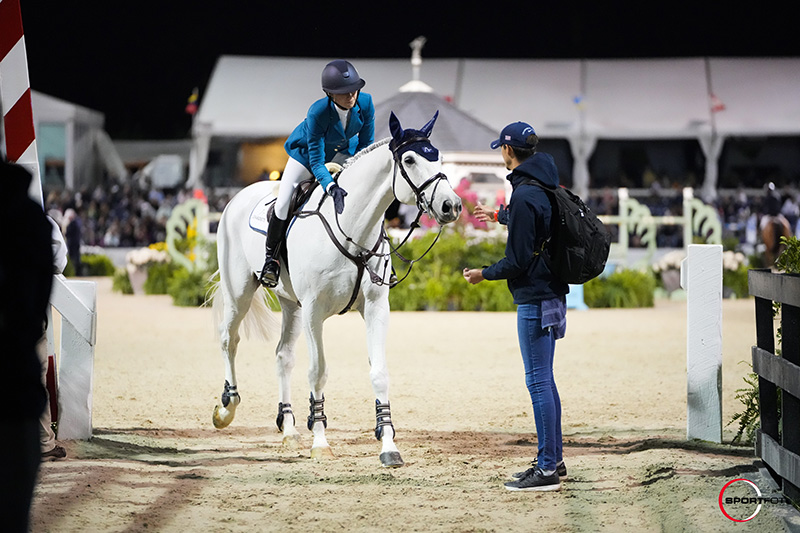 In July 2014, he took a sabbatical from his job with Delaporte for a six-month internship as a veterinary assistant at a clinic in Le Mans, France, which taught him valuable skills.
"The most important thing I learned at the clinic was to stay calm in an emergency," he said. "It's hard to learn to keep a clear head when it's stressful."
After completing his internship, Tual reevaluated his ride and realized that he no longer enjoyed riding as much. After deciding it was time for a career change, she enrolled in a one-year online business school through a university in France.
Even then, he didn't leave the horses entirely. He needed a job to earn money while studying and found one with a tack shop, going to horse shows. There, an experience at what was supposed to be his side job—something he could easily balance with schoolwork—changed the course of his career and inspired him to move abroad: When Tual accidentally lost a client due to a French/English language barrier. , he recalled, "I was angry at myself because I don't know English well. The main reason I came to America was to learn proper English."
His knowledge of the horse show world drew Tual to Wellington, Florida, where he landed a grooming job at Torrey Pines Stable, home of Canadian Olympic jumper Eric Lamaze, in December 2017.
"I knew I could brush horses and I wanted to learn English as fast as I could," Tual said with a laugh. "In Europe, we have so many horses at once that sometimes we have to give up the details. But I found that this work environment was what I had been looking for in Europe all along: North American programs believe in order and attention to detail. I'm good at it."
Tual spent about nine months traveling with Lamaze in Florida and Europe before deciding she wanted to find a smaller program with even more of the work environment she wanted. He went first to US Olympian Lucy Davis and then to Lillie Keenan's Chansonette Farm in Katonah, New York and Wellington.
"I still wanted to groom, but I wanted to be in a smaller barn," he said. "The smaller number of horses allows you to pay more attention to the details, which are very important to me."
Keenan has been training with McLain Ward for the past four years and keeps between 10 and 16 horses at a time between her horses and those owned by clients.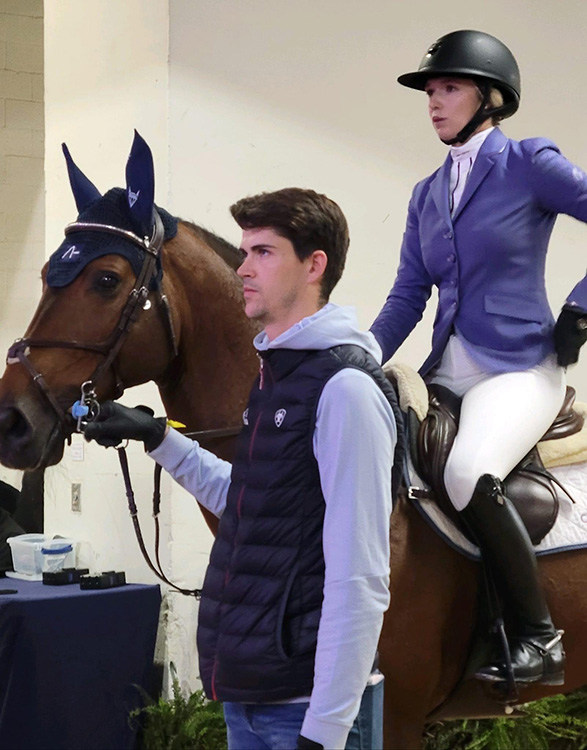 "When I started with Lillie, we had three grooms, [fewer] horses than we do now and we changed who was staying at home and who was going to the shows," said Tual. "The first year, we traveled all over the East Coast and into Canada for shows in Calgary and Spruce Meadows."
They remained in the United States during the 2020 COVID-19 pandemic, then returned to Europe in the summer of 2021, competing at horse shows in Aachen, Germany; Rome; and Dublin.
"Participating in WEF 2023 will be my fifth season with Cory, and he's really become the person I depend on," said Keenan. "When Cory is there, I know I don't have to worry about my horses. He loves everyone and is attentive to everything."
One of Tual's main assignments over the years was Chansonette Farm's Agana Van Het Gerendal Z, an 11-year-old Zangersheide stallion (Aganix Du Seigneur—Naminka, Topas).
"I've looked after him and helped Lillie bring him to the two-star, three-star and four-star Grand Prix levels, and now to the five-star level," Tual said. "He's a funny horse – sometimes people are afraid of him because he can stand up – but I'm tall and I'm not afraid of him, so it works."
Another of Tual's favorite horses was Chansonette Farm's Skyhorse, a 15-year-old Belgian Warmblood (Calvaro FC—Quinette Ter Putte, Quidam De Revel), who was sold last year.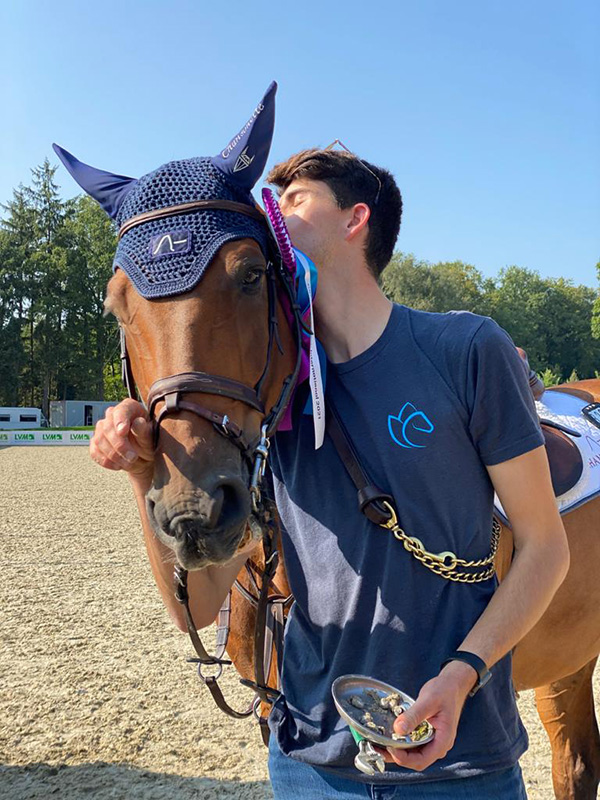 "I had such a strong relationship with him; it was unreal. He knows and trusts his person and you can ask him to do anything," said Tual. "Honestly, I love all of Lillie's horses; they are all different. I never feel like I'm alone in the barn because I'm always with the horses."
For the 2022 show year, Keenan's main goal was to earn a spot on the NetJets US Jumping Team for the 2022 FEI Agria World Jumping Championship held in August in Herning, Denmark. Tual was right next to her, supporting her every move.
"We knew we would need solid results all last winter to do this [world championship] team," he said. "There was a lot of pressure there, but we stayed focused on our end goal."
This year at the WEF, Keenan and her very new mount—she had just bought him in January—Argan De Beliard, a 12-year-old Selle Français gelding (Mylord Carthago*HN—La Belle Normande, Ahorn) were named at the WEF . NetJets US Show Jumping Team for the $150,000 CSIO4* Nations Cup during WEF 9. The pair were the only combination to contribute two clear rounds to the USA Team's total, helping the team to a third-place finish.
After WEF, the Chansonette team found out that Keenan had shortlisted 10 horse/rider combinations for Herning and they were delighted. Keenan qualified with "Argan" while "Agana" was entered as a reserve horse. The Chansonette team planned their summer schedule around the world championships, giving the horses a month off after WEF before traveling to the Netherlands to compete during the summer. Keenan and Argan were invited to compete at the FEI Nations Cup Rome CSIO5* in Piazza di Siena, Italy and the Mercedes-Benz Jumping Nations Cup Aachen CSIO5* in Germany.
"Argan and Lillie were great in both events," said Tual. "Argan did both rounds of the Nations Cup in Rome and then we did the Grand Prix on Sunday with one rail down. When I went to Aachen, I knew I had to have Argan ready for that event. I don't like to fail and I focused a lot on his preparation." During the FEI Nations Cup in Aachen, Argan and Keenan had a bar in the first round and went clear in the second round, helping Team USA to sixth overall.
When Keenan and Argan made the World Championship team in mid-July, everyone was excited. It would be the first world championship experience for Keenan, Argan and Tual alike and they were determined to set themselves up for success.
"I surround myself with mentors, for example [Ward's] longtime manager Lee McKeever and I always ask him questions if I need advice," Tual said. "I have great respect for him; Lee has been doing this for a long time. I always want to learn how to be better at my job."
Tual emphasizes that tapping a horse for a particular event is a carefully considered process. "At a normal show, you have a number of horses to choose from and you can pick the best horse to do a particular class on a particular day," Tual said. "But when you do a team championship, you're only allowed to use your chosen horse, so there's more pressure and a lot more planning to get to the top of the horse. That's one of the biggest things I've learned on this trip: how to touch a horse for one event."
Tual and Keenan worked hard to prepare Argan for Herning. Although Keenan and Argan were clear on the first day of team competition, they recorded 11 faults on the second day, part of a poor U.S. performance that saw the country finish 11th.th, missing the cutoff for the team final and failing to earn a 2024 Olympic berth during the world championships. Still, for a world championship novice rider and a horse that had never jumped such a big course, as Keenan said at the time, the Chansonette team was proud of their effort.
"We were last in the order on the second day and the last team score is a lot of pressure. If you're one rail lower, you go down the list and then you're out. But overall, the whole trip was still a great experience for all of us," said Tual.
"Our team had a tough run overall and you don't get a second chance at the same event," he added. "But I think Lillie and I learned a lot from this trip and we can apply that to future events."
Keenan was thrilled that Tual was there to support her at her first world championship. "The thing I love about Cory is he understands my schedule and his goals are the same as mine," Keenan said. "You can't replace that. Cory is truly a student of the sport and loves to win. He is a tireless worker, and the most important thing for him is the horses. Cory is so disciplined and has given me so much confidence as an athlete."
The two celebrated another milestone together when Keenan won the $150,000 Longines FEI Las Vegas CSI4*-W and Tual was honored with The Grooms Award.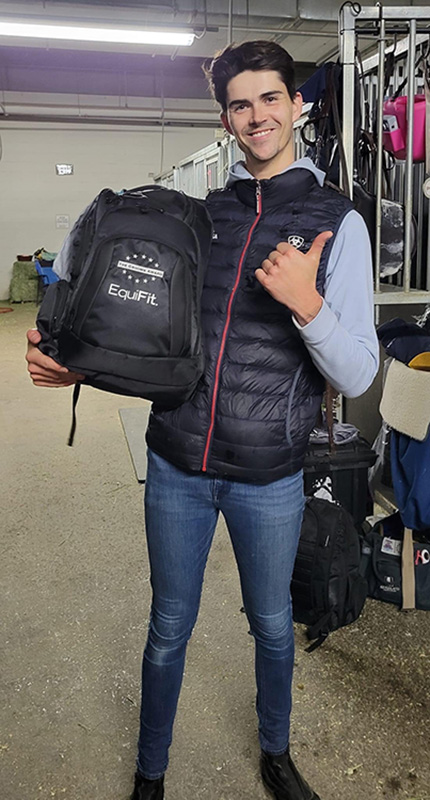 Going into WEF 2023, Tual will be managing Keenan's barn instead of being head groomer. "I used to take care of my three horses, but now I'll be looking after more," Tual explained. "I can help the other grooms with FEI, national level and client horses. Honestly, I can't see myself with anyone but Lillie. I will support her at all events. She and her whole family appreciate me. We have been through so much together and I truly believe in her system. Whatever she wants to do, I'll do it."
---
Know an exceptional groom who deserves to be featured in our Groom Spotlight section? If so, email [email protected].com to tell us all about that person.